Licensing & Continuing Education Information
PLEASE NOTE:
The State of CT Department of Consumer Protection's Real Estate Commission has licensing/continuing education authority, not CTR. Any questions regarding pre-licensing, licensing or continuing education requirements should be directed to:
Department of Consumer Protection
450 Columbus Boulevard, Suite 801, Hartford, CT 06103
Main Telephone: (860) 713-6150 | Toll-Free: (800) 842-2649
TDD: (860) 713-7240 | Fax: (860) 713-7239
dcp.licenseservices@ct.gov
For Salespersons and Brokers:
Download Exam Requirements and Application & Exam Procedures
NOTE: Broker Requirements Changed as of July 1, 2016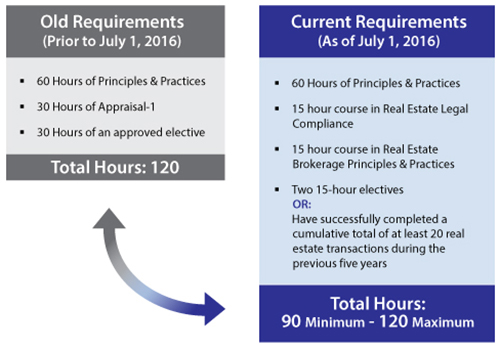 Download detailed information for the New Broker Pre-Licensing Requirements (effective July 1, 2016).
Want to be notified by e-mail when CTR is offering additional Broker Pre-Licensing classes? Click here to submit a notification request.
Additional Licensing Information
State of CT Continuing Education Requirements for Salespersons and Brokers
Every two years, the State of Connecticut Department of Consumer Protection's Real Estate Commission requires licensees to complete a minimum of 12 hours of continuing education (CE).
For 2018:
The State of CT DCP has announced that a 100% audit will be performed on all Salespersons and Brokers licensed in CT to determine that all licensees have complied with and satisfied the requirements stated below:
3 Hours "Fair Housing" (mandatory for 2016-2018 CE cycle). Not all Fair Housing classes meet this requirement (It should specifically say it's the mandatory class for 2016-2018).
9 Hours of approved Real Estate Elective courses.
OR
You may elect to pass a 40-question Connecticut Continuing Education Examination administered by PSI. Contact the testing company (PSI) directly at 1-800-733-9267 or visit www.psiexams.com.
CE courses must be completed before the expiration of your license:
Broker licenses expire on March 31, 2018
Salesperson licenses expire on May 31, 2018
FAQ
In Connecticut all licensing questions should be referred directly to the Department of Consumer Protection as they handle licensing.
Am I required to complete CE?
All license holders must complete CE prior to every even-year renewal. You are only exempt if you PASSED A LICENSING EXAM during the CE period. The 2018 CE renewal period for Salespersons is 6/1/16-5/31/18 and for Brokers is 4/1/16-3/31/18.
What if I am a reciprocal license holder?
Connecticut DOES NOT EXEMPT ANYONE from completion of Connecticut specific continuing education. You must complete approved courses via a CT approved school and retain your certificates of completion for a minimum of 4 years. If you have have taken CE in your primary state, you can submit the information to DCP for consideration.
What if I am a referral only agent?
All license holders must complete CE. Choosing to only utilize your license for referrals does NOT exempt you from Connecticut CE requirements.
How to obtain continuing education/pre-licensing education credits:
Both Salespeople and Brokers are required to fulfill 12 hours of Continuing Education (CE) credit. You can take them in-person or online at your own convenience. Please contact your local board for their in-person education calendar. View CTR's online course selections.
Continuing education credit is also available for Designation and Certification Classes. Many local boards offer designation/certification classes. You can also complete them online through NAR. Check our REALTOR® Designations/Certifications page and see what advanced education will assist you in your business.