Connecticut REALTOR® of the Year
Since 1956, the illustrious State REALTOR® of the Year award is given annually to one REALTOR® who demonstrates commitment, leadership and great strength to the REALTOR® trade association on the State, National and Local levels.
2018 State REALTOR® of the Year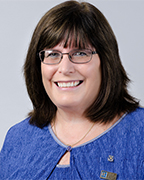 Carol Christiansen
Eastern CT Association
Many of our local boards also recognize a member of their board each year who has dedicated themselves to the real estate industry through their volunteer work and local leadership. View a list of the 2018 Local Board REALTORS® of the Year.
Past State REALTORS® of the Year
| Year | Name | Board |
| --- | --- | --- |
| 2017 | Sandy Maier Schede | New Haven Middlesex |
| 2016 | Michael Barbaro | New Haven Middlesex |
| 2015 | Michael Feldman | Stamford |
| 2014 | Bob Kimball | Eastern Connecticut |
| 2013 | Linda St. Peter | Hartford |
| 2012 | Debra Chamberlain | Eastern Connecticut |
| 2011 | Mary Ann Hebert | Waterbury |
| 2010 | Cheryl Scott-Daniels | Mid-Fairfield |
| 2009 | Nicholle Dagata | Mid-State |
| 2008 | Gene Fercodini | Waterbury |
| 2007 | Ken DelVecchio | Greater Fairfield |
| 2006 | Norm Krayem | Eastern Connecticut |
| 2005 | Mark Foreman | Bridgeport |
| 2004 | JoAnn Maurer | Newtown |
| 2003 | Donna Hohider | Waterbury |
| 2002 | Joseph Cirillo | Waterbury |
| 2001 | Frank Green | Stamford |
| 2000 | Jack Conant | Midd-Shore |
| 1999 | Denise Robillard | Eastern CT |
| 1998 | Marilyn Kuhnly | Hartford |
| 1997 | Linda Fercodini | Waterbury |
| 1996 | Allyson Bernard | Northern Fairfield |
| 1995 | Christine Hussey | New Canaan |
| 1994 | Larry Story | New Canaan |
| 1993 | Tony Montana | Norwalk |
| 1992 | Joseph Criscuolo | Central Connecticut |
| 1991 | Darrell Kern | Central Connecticut |
| 1990 | Robert Kennedy, Jr. | Hartford |
| 1989 | Ann M. Devlin | Shoreline |
| 1988 | Evelyn M. Lukes | Litchfield |
| 1987 | Joseph S. Stafford | Hartford |
| 1986 | Carroll Dunham | Lower CT River |
| 1985 | Elizabeth C. Pattee | Middletown |
| 1984 | James L. O'Brien | (posthumously) |
| 1983 | Mildred V. Richards | Central Connecticut |
| 1982 | Barbara L. Drisko | Bridgeport |
| 1981 | John W. Kellam | New Canaan |
| 1980 | Raymond L. Milyo | Bridgeport |
| 1979 | Armand J. Gagne | Hartford |
| 1978 | Joseph J. Gustin | New Britain |
| 1977 | Thomas A. Wixted | Danbury |
| 1976 | Henry A. Kulos | Norwich |
| 1975 | Alfred A. Capozza | New London |
| 1974 | William T. Beazley | New Haven |
| 1973 | Emil J. Morey | Danbury |
| 1972 | Donald M. Priest | New Haven |
| 1971 | Dorothy R. Bates | Wilton |
| 1970 | Roland H. Trudel | Stamford |
| 1969 | Gene DuFresne | Stamford |
| 1968 | George M. Brown | Bridgeport |
| 1967 | Raymond Stollman | Bridgeport |
| 1966 | Frank DelVecchio | Bridgeport |
| 1965 | Herbert C. Gross | Bridgeport |
| 1964 | Walter Kloss | Litchfield |
| 1963 | Florence Budd Schnipple | Danbury |
| 1962 | J. Baldwin Pearson | Bridgeport |
| 1961 | F. Lawrence Dow | Hartford |
| 1960 | Gordon L. Walsh | Ridgefield |
| 1959 | Francis X. Cole | Litchfield |
| 1958 | Daniel J. Gormley | Norwalk |
| 1957 | Lawrence D. Sullivan | New London |
| 1956 | Robert J. Johnson | Danbury |