Past Presidents Scholarship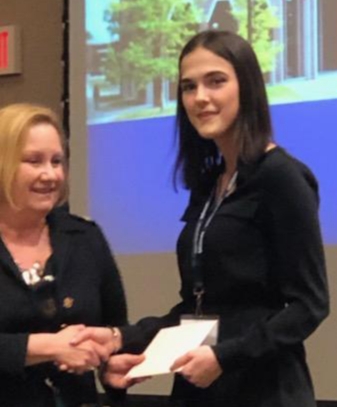 For many years now, CTR has presented Past Presidents Scholarships to deserving students enrolled in the real estate program at UConn. This year's $1,000 scholarship was presented by CTR Past President Linda St. Peter at the Annual Real Estate Awards banquet held on April 25, 2019 at the University of Connecticut.
Julia Simics is pursuing a Bachelor of Science in Business with a major in Real Estate and Urban Economics. She maintains a 3.7 GPA while participating in the Multicultural Business Society, the Real Estate Society and in the Tour Guide for Business Connections Learning Community. With an enjoyment of finance as well, last summer she interned at People's United Bank and worked in their Commercial Real Estate Lending and Business Banking Departments. Having the opportunity to attend site visits, underwrite smaller loans, review and test a borrower's financials and review site plans for upcoming construction sites was an amazing experience that reinforced her desire to continue her undergraduate career as a Real Estate major.